As the Winter weather is beginning to set in, I've been examining my hair regimen and preparing to make the necessary adjustments to accommodate the cooler temperatures and combat the dryness to come-- that is if I don't succeed in treating my hair properly. Alas, I've decided to abandon shampoo for the next two months and sort of undergo a Co-Wash Challenge. I noticed that many shampoos have a deadly combination of alcohols and sulfates that strip the hair of natural oils thereby depleting my hair of the thing it needs most: MOISTURE.
With that said I've purchased a new conditioner, Organix Repairing Awapuhi Ginger Conditioner, which has alcohol (bad!!) but its sulfate free (awesome!!) I thought it was a good compromise as it fits into my budget-- it was about $6 at Walmart-- and it has some great natural ingredients like Cocoa Seed Butter, Coconut Oil, and Avocado Oil. I didn't want to compromise much on the quality of product and I definitely don't want to spend an exorbitant amount of money on conditioner that I'm just going to rinse out of my hair-- literally, that's money down the drain. I think this product has the best of both worlds-- cheap and good for my hair! Anyhow I will be sure to post how using this conditioner as opposed to shampoo every week is beneficial or disadvantageous to my hair care regimen.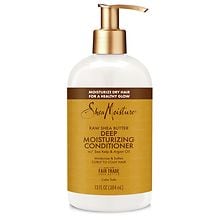 A second change I am making as of tomorrow is adding hot oil treatments to my regimen. I've been deep conditioning with a homemade concoction pretty consistently for about 3 weeks, and I've had great results (I'll be sure to post my recipe soon!). I think as it gets colder outside my hair will need more nourishment in the oil department, so I purchased a giant bottle of Extra Virgin Olive oil and will be alternating hot oil treatments with deep conditioning treatments once a week. I'm serious about this hair growth/health thang ya'll. The struggle is real!!
In addition to no shampoo and implementing regular hot oil treatments, I will also follow up with a leave-in conditioner that I love -- Shea Moisture Raw Shea Butter Restorative Conditioner. This product is a 4c kinky girl's dream!! Look forward to a product review on it soon! This past Sunday I installed mini twists to give my hair and myself a break, and I expect I will be doing more protective styling as the Winter progresses.
The twists took about 3 hours to put in....
....and about 30 minutes to take down.
Tomorrow marks the beginning of my Co-wash challenge. Hopefully all of my efforts will not be in vain and I can retain length this year. I'm praying that I don't get lazy, lose steam, and hang it all up by February. That's all for now. Happy New Year to all and Happy Hair Grooming and Growing!